What is Ecologically-Based Rodent Management?
Ecologically-based rodent management (EBRM) is a term coined 20 years ago by Grant Singleton and Herwig Leirs. Following a workshop in 1996 in Morogoro, Tanzania at the Pest Management Centre, Sokoine University of Agriculture, the theme of ecologically-based rodent research was emphasized as the future of rodent research, particularly in Africa and Asia. Further discussions together with Lyn Hinds and Zhibin Zhang led to the first international conference on rodent biology and management held in Beijing in October 1998 and the seminal book Ecologically-Based Rodent Management published by ACIAR the following year.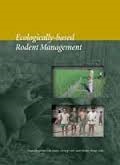 EBRM shares many principles with the more familar term of Integrated Pest Management (IPM) commonly used in agriculture to describe how different strategies for insect pest management are integrated to sustainably control pests. EBRM wants to achieve similar goals to reduce the impact of rodent pests using knowledge about rodent species behaviour, physiology and their phenology of damage to sustainably manage rodent pests. EBRM proceeds on the basis that integrated strategies can be developed that reduce the economic and social impact of rodent pests in cost-beneficial ways that do not adversely affect the environment.